---
Doraemon, do something!
April Start - Japanese
This striking Weeks book from the Hobonichi Techo Spring 2021 (April-start) lineup is the latest addition to the Japan Manga Classics series. It features the secret gadgets from Doraemon, a classic series by the celebrated manga artist Fujiko F. Fujio.

Designed by Idea Oshima, the cover art is lots of fun to look at. Both the front and back covers are packed tight with moments from the comics when Doraemon's secret gadgets appear.

The names of Doraemon's secret gadgets are inline foil-printed in gold, so you'll almost be able to hear the fanfare and his voice as he announces them.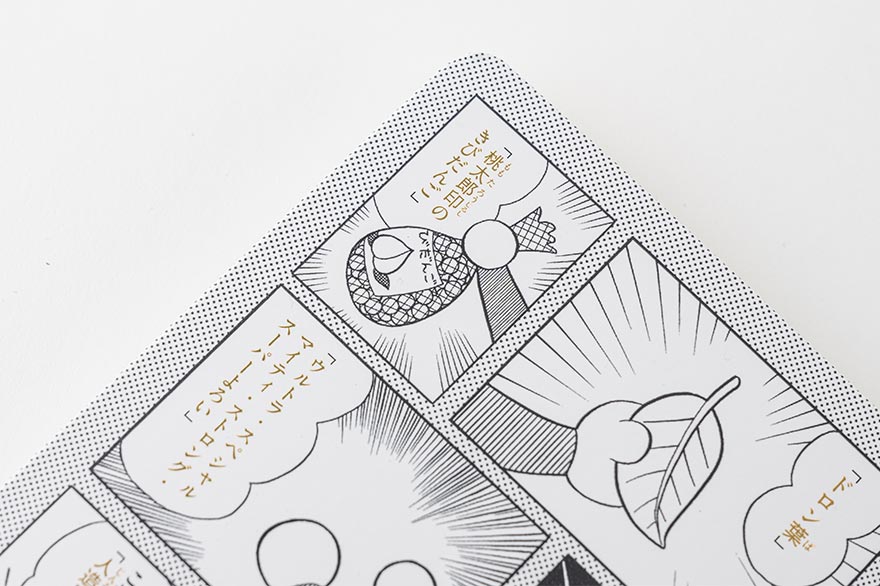 The year 2021 is printed over a piece of Memory Bread.

The spine of the book also has the year 2021 printed.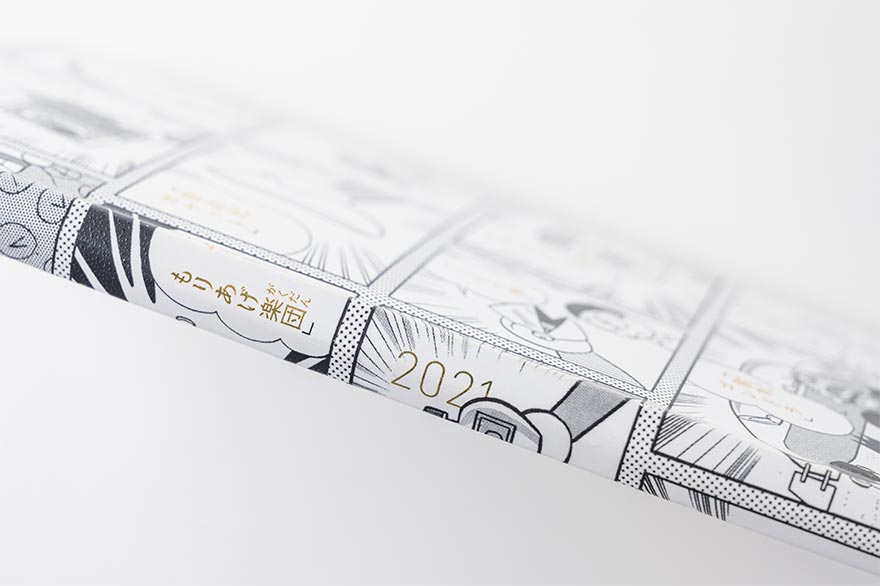 Look closely and you'll see that the screentones of the comic strip add detail to the background.

On the back, the Hobonichi logo is printed smally.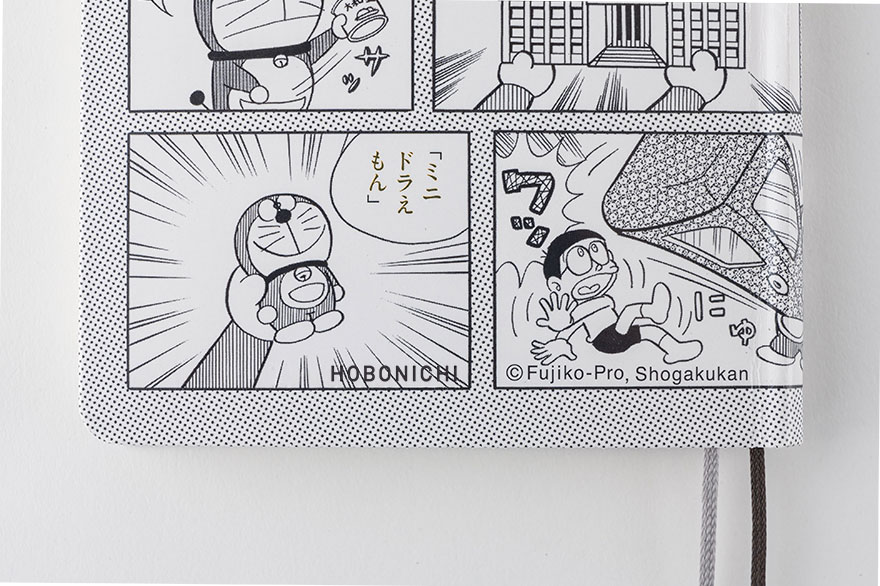 You'll have fun pulling this Weeks book from your bag, like your very own secret gadget. It's filled with possibilities, just like Doraemon's 4D pocket, which makes it a great partner in every aspect of your everyday life.

©Fujiko-Pro
Specifications
Overview

Size
W: 94 x H: 188 x T: 10 mm / W: 3.7" x H: 7.4" x T: 0.4"
*Specifications may vary slightly
Weight
Approx. 131 g
Main material
Paper

Weeks Book (Japanese / April Start)

Language
Japanese
Pages
240 pages
Binding
Stitch-binding
Paper Type
Thin, light Tomoe River paper resistant to bleeding and designed for planners.
Graph Paper Size
3.55 mm
Yearly Calendar
2020, 2021, 2022
Yearly Index
Apr. 2021 - Mar. 2022 (2 pages)
Monthly Calendar
Mar. 2021 - Apr. 2022 (28 pages)
Daily Quotes
One per week (Japanese)
Weekly Calendar
Mar. 1, 2021 - Apr. 3, 2022 (114 pages)
*All weekly pages include quotes.
Graph Paper
75 pages
Informational Pages
Shorthand Note-Taking / Graph Paper / Using Common Items to Measure Size / My 100 / Solar Terms / Weather Terms for your Techo / Basic Posture Techniques / Emergency Preparedness / Age Table / Conversion Chart / Getting the most of Hobonichi / Contact List / Personal Notes
Listed Information
Week of the year / Rokuyo (traditional Japanese calendar) / Solar terms / Japanese holidays / Moon phase (weekly pages include every phase, monthly calendars only include full and new moon)

*The 2021 Weeks book (April Start) is produced based on information as of September 2020, and therefore does not reflect the amendment in dates of the following national holidays: Marine day, Mountain day, and Sports day. We apologize for the inconvenience caused and ask for your kind understanding.